Nor' West Company
Flintlock Shooting Supplies and Accessories
Our gunflints are mined and hand-knapped at the historical flint quarries of Brandon, England and are supported by primary documentation. These are the highest quality gunflints we've been able to find. To determine the proper size of gunflint for your flintlock muzzleloader just measure across the face of the frizzen.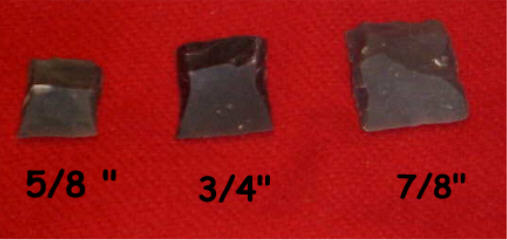 5/8" flints fit most flintlock pistols, T/C, Lyman and other "factory" manufactured rifles. $1.50 ea.
3/4" flints fit most newer Siler, L&R, Chambers and similar large rifle locks. $1.50 ea.
7/8" flints fit most reproduction large-bore rifle, fusil, trade-gun and small musket locks. $1.75 ea.
Smaller and larger gunflints are available by special order.
Pan Primer: Just press the spring loaded spout on the flintlock's pan to deposit the correct amount of priming powder. A very convenient tool for the dedicated flintlock shooter and only $11.00 each. (Q)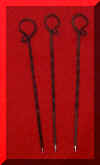 Vent Picks (a.k.a. Touch-hole picks) Hand forged with a nice "Shepherd's crook" and twist, these are small enough to actually work. $2.00.(P)