Buying from Nor' West Company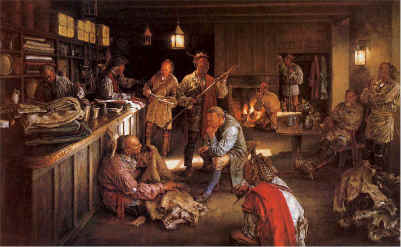 Winter Trade by Robert Griffing ©2000
Click or scroll down for the following:
Like most living history vendors, Nor' West Company does not have a storefront. We offer our wares at a variety of muzzleloader shooting matches, historical rendezvous and other events throughout Alaska. We also sell goods over the Internet. We can provide black powder and our other goods from our proprietor's home in Two Rivers by appointment. Directions and a map are provided at the bottom of this page.
If you prefer, you can order goods from Nor' West Company via mail, Email or telephone, or use our handy On-line Contact form or send an Email to swanny@norwestcompany.com.
If you prefer to order by mail, or mailing address is:
Nor' West Company
P. O. Box 16237
Two Rivers, AK 99716
(907) 488-3327

We can accept payment over the Internet via PayPal. This is the fastest, safest and most secure way to exchange funds over the Internet.
If you prefer to use your Visa or Mastercharge for on-line orders you may be required to accept a collect telephone call from us in order for us to safely and securely obtain your credit card number and expiration date. Please do NOT send credit card numbers over unsecured Internet connections.
We are happy to accept payment by money order, traveler's check or your personal check but we reserve the right to delay shipping until your personal check has been honored by your bank.
Use our convenient on-line contact and order form or just send us an Email to submit your order. We will reply with an Email providing shipping charges, the projected shipping schedule or your order and any details needed to finalize the sale. Please note that our on-line order form is NOT secure. Do not include credit card numbers when using this form.

If the package is damaged in transit please open and inspect the contents in the shipper's presence. If the shipper refuses to make things right please contact us immediately. Orders over $50.00 are insured against damage or loss.
If you are dissatisfied with a product purchased from Nor' West Company simply return it to us in new, resalable condition and we will cheerfully exchange it or refund the purchase price and return postage. We can not accept returns of black powder or percussion caps.
Map and Directions

Click map for larger picture
From Fairbanks, take the Steese Highway north to the Chena Hot Springs Road exit. Turn right and follow Chena Hot Springs Road 18 miles (two miles past Two Rivers Lodge). At the top of the second hill past Two Rivers Lodge you'll see a homemade sign reading "17.5" in orange letters on a black background. Start slowing down here. Toward the bottom of the hill you'll see an "Adopt a Highway" sign on the right. Our driveway is on your left, just before you reach the Adopt a Highway sign. It is not marked, but is easily spotted from the highway.