Our Dogs, Swanny's Latest Historical Adventures and Other Fun Stuff
"A good dog is so much a nobler beast than an indifferent man that one sometimes gladly exchanges the society of one for that of the other." William Francis Butler
"If in China a cat can be referred to as "the tiger that eats from your hand" then in America the dog can be considered "the wolf that drinks from your toilet."
"Shunka" was a yellow Labrador retriever (pointing lab) and a fantastic, or more properly termed fanatic, hunter. In her later years Shunka developed Cushing's Diseases and the medication given to treat that disorder resulted in her becoming diabetic. I finally had to have her euthanized on April 4th of last year. The photos below show her at all stages of her life. Click thumbnails for full sized pics

Shunka as a tiny little puppy, the most "yellow" of the two light-colored puppies in the whelping box

Shunka fetching a tomahawk, about 1 1/2 years of age.

Shunka was about 3 years old when I took this photo. She always had a knack for finding the most comfortable place in camp for a nap.

Shunka impersonating a prairie dog at about 11 years of age.
"Chinook" is our pound-puppy, a St. Bernard cross rescued from the borough animal shelter that we are training for carting, skijoring (pulling a person on skis), sledging and perhaps for weight pulling competitions. He is now almost 1 1/2 years old and has been pulling a sledge well all winter.

Chinook the day we brought him home, age about 5 months.

Chinook with me and Keith Bayha (in the red shirt) at about 7 months of age.
Chinook in April, 2003. Roughly 18 months old.

Chinook at the Alaska Memorial Rendezvous, May 2003

Chinook taking a break after hauling a sledge load of camping gear to the 2004 Alaska CoHT Winter Camp
Monte is named after the protagonist's horse in the motion picture "The Man From Snowy River" because like the horse, we have "no notion of his breeding. Like Chinook, he was rescued from the Fairbanks North Star Borough animal shelter after he was picked up as a stray. He was only three months old when we adopted him in July, 2004. These are all "puppy pictures" taken shortly after we got the little fellow home.
Our newest puppy, Seamus, was adopted from the Fairbanks North Star Borough animal shelter, but nearly died of parvovirus. Fortunately he's survived and thrived. His former owners said he is an Irish wolfhound / Doberman pinscher cross. Later assessment of his temperament and appearance indicates he is instead an Anatolian Shepherd Dog / Alaskan Husky mix.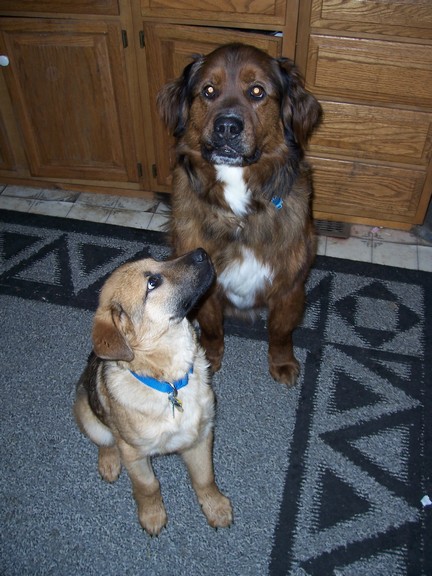 As Seamus has grown older and matured he topped out at about 85 lb., and he grew into a tremendously driven and athletic sled dog, taking after the husky in his ancestry. Today he runs at the wheel position, the position nearest the sled, where his size and power help turn the sled around tight corners. This coming winter he will assessed as a potential lead dog.