Nor' West Company Products










'Parchment' background created by Jason Gatliff for Historical Enterprises, publishers of On The Trail and the HistoricalTrekking.com website.
Nor' West Company's website is hosted and managed by Nor' West Net.
©1999 - 2006 by Nor' West Net. All rights reserved. For publication information contact webmaster@norwestcompany.net
About Nor' West Company's Proprietor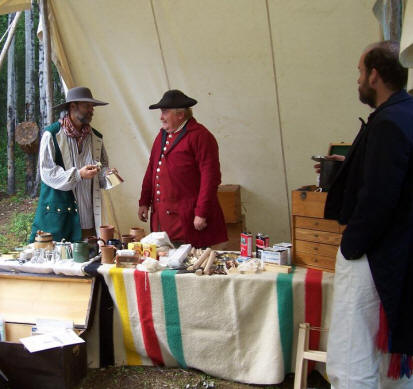 Nor' West Company is owned by Thom "Swanny" Swan (in red clothing above), a muzzleloader shooter since 1976 and an avid living history enthusiast. Swanny is a frequent participant at rendezvous and historical treks in Alaska and the Lower-48. In his own living history activities, Swanny portrays an eighteenth century fur-trader and in this role brings his products to a variety of living history events around Alaska, where he displays them in a historically authentic fashion. Our event schedule is generally listed in the Living History Activities in Alaska page of our web.
Swanny is a past national president of the Coalition of Historical Trekkers, a member of the Alaska State Muzzleloader Association, the Alaska Trappers Association and Midnight Sun Muzzeloaders and is a frequent contributor to living history and muzzleloader shooting magazines and other publications.